Latest News & Publications
ADM celebrating 20 years of success
April 12, 2023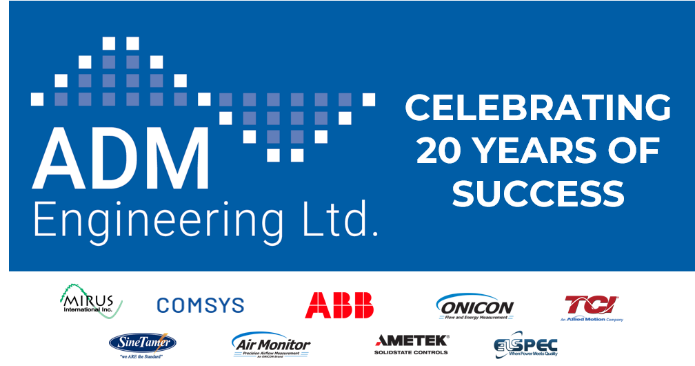 Two decades of engineering prowess and innovation
ADM Engineering LTD. is proud to be celebrating two decades of engineering prowess and innovation. As a Center of Competence in Power Quality and Electronics, we've been at the forefront of cutting-edge technology in Variable Frequency Drives, AC Motors, Power Quality solutions, Flow and Energy Measurement Devices, and more.
Our unwavering commitment to excellence has led us to proudly represent industry leaders like ABB Drives, ABB/Baldor Motors, Comsys Active Dynamic Filters, Mirus Passive Filters, ONICON Flow and Energy Solutions, and SineTamer Surge & Transient Protection Systems.
Another factor that we believe makes us stand out is our dedication to our customers. ADM Engineering Ltd. has maintained an expansive local stock to provide a rapid and reliable service that minimizes downtime and maximizes satisfaction.
We are happy to commemorate our 20th anniversary – an extraordinary journey marked by innovation, precision, and unparalleled service. Here's to the next 20 years of engineering excellence!